We are officially half way though Sale-A-Bration...the most wonderful stampy time of year! As of today, new Sale-A-Bration items are available and they are amazing! Click on the image below to see all of the fabulous newly released items!
The Sale-A-Bration Painted Seasons Bundle is available to you for FREE with a $100 catalog purchase and it is gorgeous! With this bundle, you get the stunning Painted Seasons stamp set and beautiful Painted Seasons DSP. These items are perfect for any season!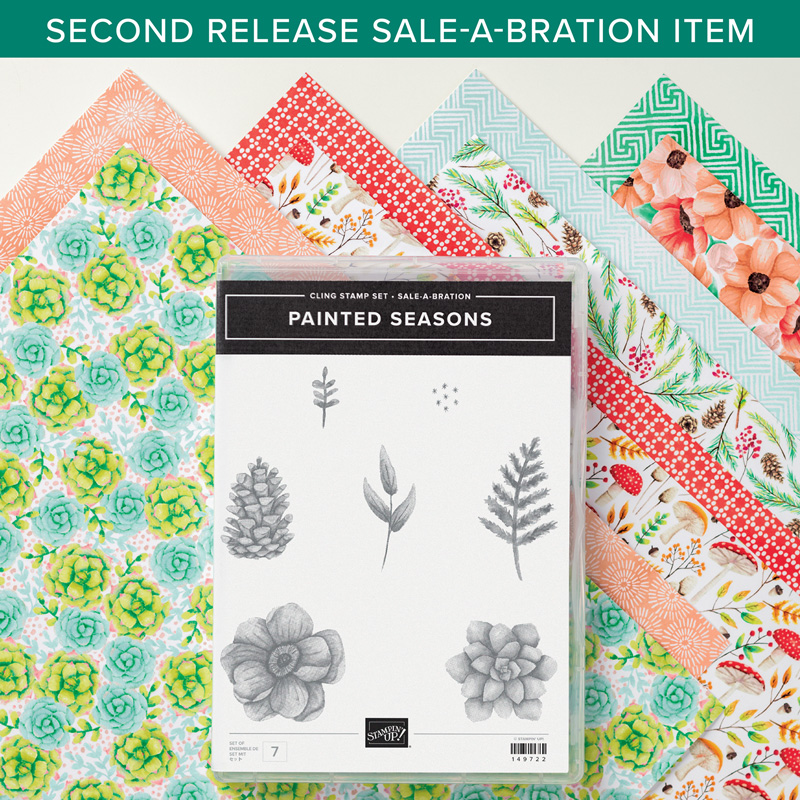 Want in on a little secret? On March 1st, there will be coordinating frailest for this stamp set!! How awesome is that?!? Want to know another little secret? I forgot to pre-order my frailest, so all of my flowers and leaves are fussy cut! It's a good thing fussy cutting is therapeutic for me!
I love the succulent stamp and coordinating DSP pattern. This was my first image to ink up in the stamp set and I LOVE it. This is another awesome Distinkstive stamp set and I've found the best way to get a crisp, clear image is to drag the stamp across the ink pad, rather than tapping. There are several helpful tips and tricks out there to successfully inking up the beautiful Distinktive images. Don't be afraid to ask for tips!
I coordinated both cards with the Well Written Framelits to complete my sentiments. These framelits are so good...with or without the coordinating Well Said stamp set!
I'll be using this bundle at my upcoming stamp club in March. I can't wait to share these amazing products with my club members. They are going to love them!
Thanks to my amazing job, I get to enjoy a 4-day weekend, which means lots of stamp time! I have plans to FaceTime stamp with my BFF since she wasn't able to make the drive over due to our crazy winter weather. Thank goodness for technology!